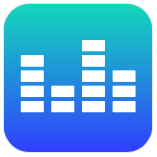 Radio Live!
Radio Live! … all your favorite radios stations always nearby!
Wide selection of Countries and Genres:

USA, Australia, UK, Germany, France, Italia, Spain, Netherlands, Switzerland, Austria, Belgium and Luxembourg.

Hit, Club, Lounge, Urban, World, Gold, Rock, Jazz, Country, Metal, Classical.

Displaying the Title, Artiste name, Album cover of the song you're currently listening for radios stations that support this feature.

List of Favorites with function Add, Delete and radios reordering by simply dragging and dropping.

Easy navigation by scrolling and touching.

Button Play, Stop, Next Radio, Previous Radio, Volume adjustment slider.

100% AirPlay compatible

Compatible with car's steering wheel controls.

Portrait and Landscape mode supported.